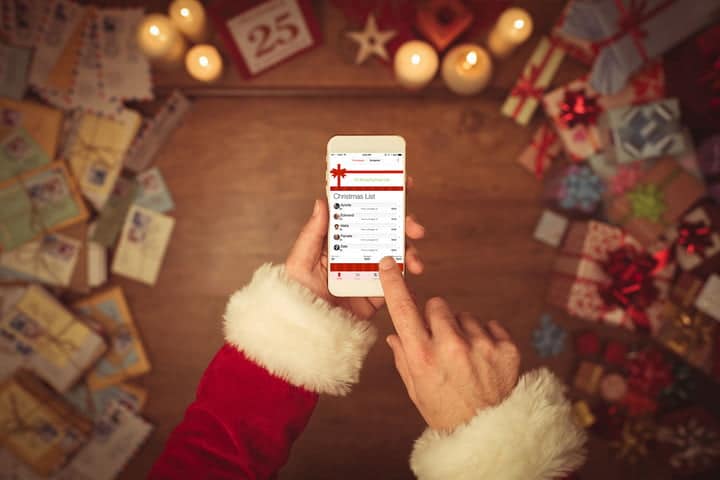 As wonderful as it is, the holidays can be quite stressful.
With people all around, finding the right gifts, getting dressed and ready for parties, it may make you want to pull your hair out. Regardless of what you may be facing this holiday season, chances are there is a smartphone app that's made to help so that you can push through.
Below you'll find 10 apps that can help keep you and your family more prepared and organized. Scroll, and relax…
1: Shopping Apps
Before trudging through town during the holiday chaos check if a particular store or brand has a shopping app. There are usually extra deals attached to downloading a stores app. Most retailers have an app these days.
Some top shopping apps:

Amazon or Prime Now: The Amazon app is the mother of all shopping apps and is a must have to get through holiday season shopping.

Available for IOS and Android.
Cartwheel by Target: Tailors specific coupons and in-store saving opportunities, just for you.
Available for IOS and Android.
Tradesy: Check out this app for Luxury clothing and accessories that have been gently used.
Available for IOS and Android.
2: Flight Tracker

Out-of-town guests coming in on different days and at different times can get confusing. This app is a great way to keep track of who is coming and going and when they'll need a ride to and from the airport. No one has time during the holiday season to be circling around the airport waiting for family and friends to land.
Available for IOS and Android.
3: Pandora Holiday Stations
Getting into the Christmas spirit can be made easy with the many incredible Christmas music stations on Pandora. There are a ton of different ones like '80s Christmas, Kids' Christmas, Smooth Jazz Christmas, Hipster Holidays and R&B Pop Holidays. There is also a Hanukkah music station.
Available on IOS and Android.
4: TaskRabbit
It is common to feel overwhelmed during the holidays. TaskRabbit is an app to help keep you organized and on track, even when you have no time to do so. This app allows you to hire a "tasker" to help you with things like gift-wrapping, picking up items (or returning them), housekeeping services or even putting furniture together. It's an excellent option if you need an extra hand for an hour or two.
Available on IOS and Android.
5: Headspace
Have a few spare minutes and a quick way to help you relax? Try Headspace. This app has guided meditation you can listen to and it offers many that are only 10 minutes long. Available on IOS and Android.
6: TeuxDeux
While there are a ton of to-do apps available, this one is so simple. Leaving out the bells and whistles, it's still a stylish easy-to-use app that will help keep you organized and on track during the holiday chaos.
Available on IOS.
7: Perabo Press
This app provides for an easy, no-fuss option for your holiday cards. With Parabo Press you can take photos directly from your phone and have them turned into prints, cards or posters.
Available on IOS and Android.
8: Happy Cow
Families members are versatile in many ways, one of them being what different things they will eat. If you have vegetarians or vegans in your family, this app is perfect for you. You are able to search restaurants that offer options for them, making picking a restaurant for the night, a piece of cake!
Available on IOS and Android.
9: Food Network In the Kitchen
If you'll be spending some time in the kitchen this holiday season, this app is good to have on hand. It offers an abundance of recipes from your favorite chefs, like Bobby Flay, Rachael Ray, Alton Brown and more. The app allows you to save recipes by TV shows and makes it easy to find something you may have seen made on one of their Tv shows.
Available on IOS and Android.
10: Waze
With everyone traveling and cars all over the road during this time, Waze is a must have. This app allows drivers to see the best possible route to their destination free of gridlock. The last thing anyone needs is to be stuck sitting in traffic stressing about everything that still needs to be done. There are even some celebrity voices you can choose to help you navigate.
Available on IOS and Android.