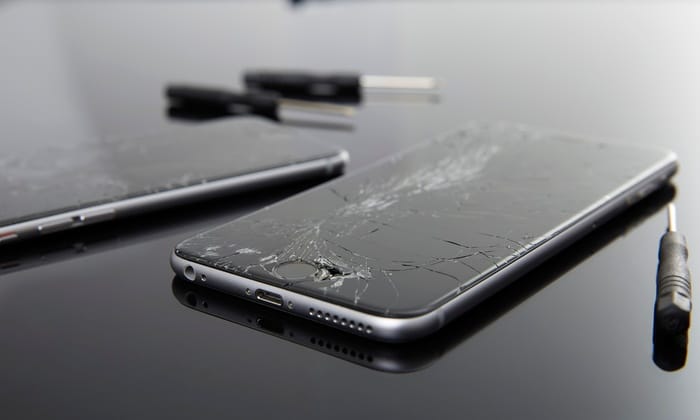 Zagg Phone Repair: Screen Repair
Smartphones have been the standard for over a decade, and though they perform many amazing and useful tasks, let's face it: they just aren't as sturdy as the flip phones of yesteryear. If you've been a smartphone user for any significant amount of time, you've most likely cracked or even shattered your phone screen at least once, if not multiple times.
Don't worry—you're not alone, and Zagg Phone Repair is here to help. We specialize in iPhone screen repair and iPad screen repair, and we're fully equipped to handle any level of screen damage.
Is a shattered iPhone screen making you feel disconnected?  Are you trying to endure that crack through your iPhone glass until your next upgrade?  Consider our renowned screen repair services at ZAGG Phone Repair.  We can fix your cell phone screen while you wait and at a great price!  Whether you have a minor blemish or your glass is fully shattered, our technicians are equipped and trained to restore your phone within minutes.  As we work to repair your screen, please shop our inventory of designer cases and cellular accessories.  We give customers everything they need to extend the life of their cell phone investment in Maryland, DC, Virginia and Florida.
At ZAGG Phone Repair, you can expect more.  Not only do we lead the nation in mobile device repairs, but we also offer extra ways to protect your cell phone or tablet from future damage.  Ask one of our friendly sales associates about our invisible shield screen protectors.
If your cell phone could use a boost, call ZAGG Phone Repair in Maryland, DC, Virginia and Florida today.  All of our store locations offer same-day appointments and accept walk-ins.  We work hard to ensure that your cell phone repair is a hassle-free experience at ZAGG Phone Repair.
Why You Should Fix an iPhone Screen ASAP
If you're going about business as usual with a shattered phone or even with small cracks in the screen here or there, you could be causing a great deal of harm to your phone's functionality.  A screen full of cracks is a more obvious hazard, but any fracture in your device's screen could be letting in harmful materials. When your screen gets even the tiniest crack in its surface, your device's internal components are now exposed to dirt, moisture, and other microscopic bits of grime that can quickly affect the device's functionality, even if the drop that caused the crack or shattering didn't seem to cause any internal harm itself.
Visit a ZAGG Phone Repair Store Near You
Get your phone fixed promptly by visiting one of our stores located throughout DC, Maryland, Virginia & Florida

Find your nearest location and make an appointment online
Enter your zip code above and find the closest location to make an appointment

Bring your phone or tablet into one of our stores or mall kiosks
Come in and speak directly with one of our ZAGG technicians for a complete diagnosis

Get your phone or tablet fixed in store while you wait
A ZAGG technician will fix your phone or tablet promptly and correctly good as new
Dispatch a Mobile Technician to Your Location
Schedule a repair online and we will come to your home or office location

Schedule a repair appointment online when convenient for you
Enter your zip code above to see if we offer on site repairs in your area

A ZAGG technician comes to wherever you are
At the office, in the factory, at home or a restaurant – wherever works!

Get your phone or tablet fixed at your location while you wait
A ZAGG technician will fix your phone or tablet promptly and correctly good as new
This year, we have repaired
iPhones: 21,983
iPads: 8,463
Galaxys: 4,496
Why Zagg Phone Repair?
If your device needs screen repair, look no further than Zagg Phone Repair. We offer high quality and efficient iPhone screen repair, and our staff is well equipped with the knowledge and experience to answer any question or concern you may have about your device or the screen repair process. We pride ourselves on our ability to not only fix an iPhone screen, but to also provide you with the tools and information to prevent future damage.
To top it all off, convenience is our middle name. Need to repair a phone screen but don't have time to come into the shop? We'll bring our expert service to you. Call us or register online to set up your appointment, either in-store or dispatch. With our Mobile Repair Vehicles, we can repair your device virtually anywhere while you wait. Find your nearest location in DC, Maryland, Virginia, and Florida on our site today.