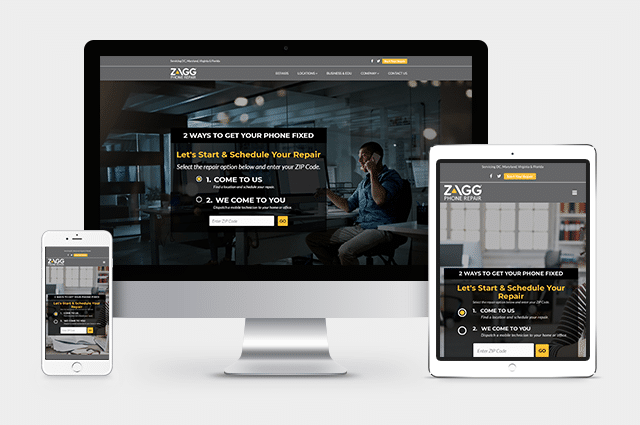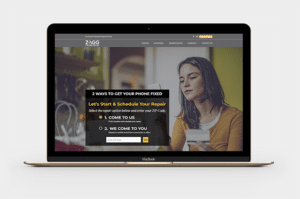 It is with complete excitement that we announce that the new and improved ZAGG Phone Repair website is now live at https://zaggphonerepair.com! Navigation updates on the site make for easier browsing, including both mobile and desktop versions. No matter what type of device you are on you can always view the website and schedule your repair appointments online. The structure of content has been better organized so more can come of a quick read. Many small changes have been made that really make for an overall better experience when you visit the new ZAGG Phone Repair Website at https://zaggphonerepair.com.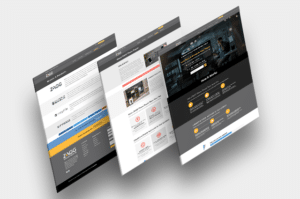 When the website construction began we had a lot of ideas based on making it easier for you to schedule
your appointment online through the website at your nearest ZAGG Phone Repair location. Now the website will take you through the process of selecting your specific device, color, the issue as well as a date and time to get it repaired.
The website takes your current location into account when scheduling so you automatically know which repair location is closest to you.
You will see that we now have a section set up on our homepage that provides two options: you coming to us, or us coming to you. Starting soon in 2019 a mobile technician at your doorstep will be only a click away. ZAGG Phone Repair will offer remote repair services for an even more convenient experience. 2018 was a successful year, creeping up on 35,000 repairs in total. Keeping another busy year in mind for 2019, we have refreshed the site making it easier to understand, easier to read, and easier to use. Please visit ZAGG Phone Repair at https://zaggphonerepair.com.

Go check out our new site and please reach out to us via Facebook or Twitter with any feedback. We would love to hear from you!