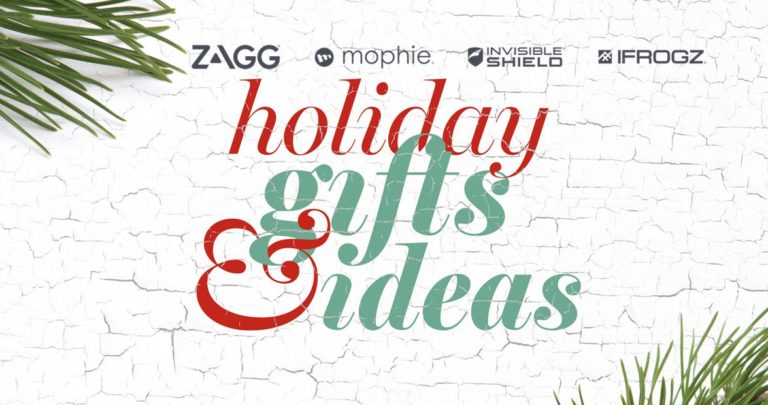 ZAGG Phone Repair offers quick and convenient phone repair, but it's also the perfect source for holiday gifts. With phones and tablets playing such a huge role in our lives, taking care of them and getting the most out of them are critical. It's also a great way to show your loved ones how much you care about them – and their devices.
Invisible Shield
While ZAGG Phone Repair takes care to repair or replace cracked or scratched iPhone screens to get them back in top working order, the best case scenario is to take the proper precautions to avoid any harm to your cell phone in the first place. The dazzling iPhone screen is so fragile that damaging it has become almost a rite of passage, with up to 45% of new iPhone owners experiencing some form of screen shattering or breakage. Prevent the worst with Invisible Shield screen protection, a product designed to absorb and distribute the shock of an impact, and preserve your screen from scratches that can happen in all kinds of everyday encounters. , including the potential pitfalls of drops, fumbles, and spillages or immersions in liquids. You can feel confident knowing your shield may take a beating, but your phone's screen will remain as smooth, clean, and functional as the day you bought it.
ZAGG Cases
Another of ZAGG's products created to prevent damage and ensure proper cell phone functionality is our selection of strong, durable cases. As the majority of accidental damage is caused by the phone falling, we recommend protecting it with a strong case that will help your phone to better survive impact. Please check out our extensive selection of sturdy cases at one of our eight stores, with locations in Maryland (Bethesda, Gaithersburg, Annapolis, and Columbia), Virginia (Tysons Corner), Florida (Orlando and Sarasota), and Washington, D.C.
iFrogz
If you're shopping for those who have everything, phone accessories make a practical but stylish choice, especially if they enhance the audio experience of music playlists, podcasts, or streaming video. In today's high-tech world, wireless sound is all the rage. ZAGG has a wide array of personal audio accessories, including Bluetooth audio, in-ear earbuds, on-ear headphones, and portable speakers. From Christmas classics to audiobooks to the latest season of Veep to binge, the right wireless audio accessory will bring sharp, crisp cheer to the lucky recipient.
Mophie
Mophie is the #1 selling wireless battery case manufacturer in North America. Some of these amazing products, recognized for their style, engineering, and performance, include the Juice Pack (a wireless charging battery case), as well as wireless charging docks, wireless charging cases and wireless charging batteries, all available at ZAGG Phone Repair locations throughout the states of Maryland, Virginia, Florida, and in the city of Washington, D.C.
Count on ZAGG Phone Repair for times when your iPhone is damaged, and also count on us for a wide range of protective products and cases, as well as audio and battery accessories to help your loved ones get the most out of their phones, tablets, and devices this holiday season.