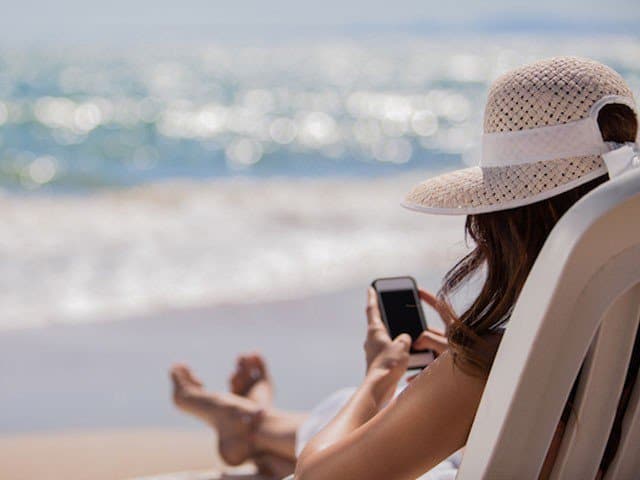 If it's spring then it's Spring Break somewhere!
Whether you're a student, a parent, a basketball fan, or a kid of all ages, there's a good chance that you may be traveling during the big week. Wherever you're headed, your cell phone is a must and you need it in top working order when you're on the go and away from home. It has a cracked screen but it's still working (mostly) so repair can wait, right? It's smarter to have it repaired sooner rather than later, especially before traveling. With locations in Washington, D.C. and the surrounding areas of Maryland and Virginia, as well as Orlando and Sarasota, Florida, the screen repair technicians at ZAGG Phone Repair can get your cell phone up and running smoothly again with expertise and efficiency. Then you can jump into your spring break adventures with full confidence that your cell phone lifeline will keep you connected to the apps, social media, music, games, camera, and safety features that you rely on. ZAGG Phone Repair is ready when and where you need them to quickly and properly fix all of your cell phone issues.
Florida is the #1 vacation destination for Americans ages 18-59, and ZAGG has two locations in the Sunshine State for your phone repair needs. Orlando is second only to Hawaii as a domestic spring vacation destination, and ZAGG Phone Repair has got you covered with a central Orlando location. Whether you're visiting Disney World, Universal Orlando, or the Wizarding World of Harry Potter, your phone repair needs are covered.
Beaches are the #1 vacation destination in the country, and Florida is rated behind only Hawaii for spring travel. Sarasota is the gateway to miles of beautiful beaches on Florida's Gulf Coast, and ZAGG is right there where you need them. The sandy beaches and endless blue water are the stuff of dreams, but they can be nightmares for the health and functionality of your phone. Those tiny sand crystals can sneak into the smallest camera lens or charging port, and water is a phone's worst enemy. Whether you damage your phone during spring break or need an overdue repair, ZAGG is your phone repair expert for your Sarasota beach vacation.
Many families opt for a spring vacation further up the East Coast, visiting Washington, D.C. to see the national monuments, historic landmarks, museums, and cherry blossoms. ZAGG Phone Repair is located in the District itself, with six locations in Maryland – Bethesda, Columbia, Annapolis, and Gaithersburg – as well as Tysons Corner, Virginia.
Wherever your spring break travels take you, a fully functioning phone is a must and ZAGG Phone Repair is ready to repair any damage and ensure that you and your phone are ready for beaches, brackets, broomsticks, or the Beltway!