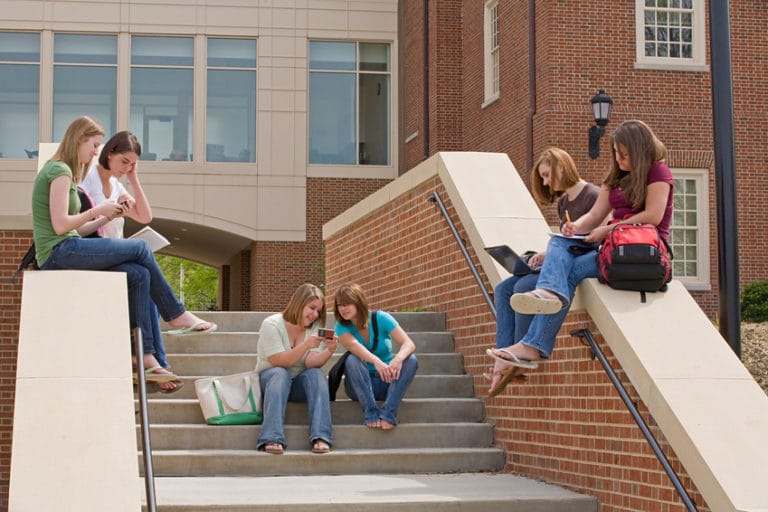 College! Today's freshmen and upperclassmen are heading back to campus for the new school year, and you can bet that their phone and devices are packed with mobile apps of all shapes and sizes. But besides the usual suspects – Instagram and Snapchat and Netflix – there is a whole host of apps that help college students with everything from time management to financial maintenance to the dreaded subject of math. These are 10 must have apps for college students. Call the Zagg Phone Repair near your school today for all of your smartphone needs.
When you're in college, you need a reliable note taking app. We used to use pen and paper, but today's typing speeds are lightning fast and more efficient. Evernote is a popular and powerful app for note taking, organizing, task lists, and archiving. Each "note" can be formatted text, a Web page or excerpt, image file, voice file, or "handwritten" note. Notes can have file attachments, and best of all there's an optical character recognition (OCR) feature. Take a picture of lecture notes on a whiteboard and Evernote will scan the image for written words and convert it to text. Now there's something we all could have used!
TED provides a clearinghouse of free knowledge from the world's most inspired thinkers – all at your fingertips. The app is a platform for thinkers, visionaries and teachers to lecture, speak, and share with the goal of letting people everywhere to gain a better understanding of the biggest issues faced by the world. High-quality videos of speakers around the world bring you the brightest minds discussing topics ranging from Artificial Intelligence to Buddhism to Ebola to PTSD. This app features world renowned business experts, educators, computer geniuses, music legends, scientists, and more. Join them and gain valuable knowledge and perspective to boot.
The name of this application says it all perfectly. RealCalc is designed to look and operate exactly like a real hand-held calculator. It has all standard scientific functions plus history, memories, unit conversions, and constants. You can choose from a number of display styles and formats. It also supports binary, octal and hexadecimal calculations and has an optional RPN mode. RealCalc is easy to use, but has full help included in the app. As a bonus, you don't have to carry a bulky calculator in your bookbag!
Improve and enliven your vocabulary with the Dictionary.com app. It's both a dictionary and a thesaurus, so if you're writing a paper on Hamlet and have used the word "revenge" a few too many times, you're in luck. Using "retribution" or "vengeance" here and there will improve your writing (and hopefully your grade!). It also comes loaded with quizzes to keep your English skills sharp, and the word of the day is a delight to read every morning. Another fun feature is exploring words that are looked up in your local area! A great app for readers, word enthusiasts, and those who know the meaning but can't remember the word itself.
An increasingly serious issue for college students is personal finance. Mint is a great app which allows you to see and track exactly where your money is going. You can set up budgets, alerts, and sync up with your bank account in no time. Mint also lets your categorize your spending and create spending and saving goals. Managing a personal budget may be a new challenge after moving away from home, and in the larger sense student loan debt is skyrocketing. That's why staying on top of your finances and living within your means from the start can be an enormous help when you step out into the real world.
No need to worry about losing your notes or coursework anymore! With the file hosting service Dropbox, you can store your files (documents, photos, videos) in the cloud and sync them between devices, so the files are up-to-date no matter where you open them. No more old drafts or versions. You can also share with friends, classmates, and colleagues knowing that your files are safe and always accessible.
One of the biggest college expenses has always been textbooks. Every semester there are new lists and more expensive books to buy. Chegg is a free app that lets you find textbook rentals at a fraction of the purchase price. And when the semester is done, you can use Chegg to return, rent, or sell them. Chegg is always looking to provide alternatives that help students live, study, and work smarter -including scholarships, course reviews, and 24/7 study help.
EasyBib is a bibliography generator. When asked what's the most difficult stage of writing a research paper, essay, thesis, or dissertation, many college students would say it's the citation list! The EasyBib app lets you enter a book's bibliographic information and have the citation created for you perfectly, whether it's ALA, MLA, or Chicago style. It also includes suggestions for writing style, grammar, and sentence structure corrections or improvements. Almost like a personal tutor, EasyBib is a must have.
CliffsNotes provides authoritative study tools, from literature notes to math and science articles to test prep. For students studying literature and whose assignments involve writing about books they've read, CliffsNotes provides information about character, plot, or theme, as well as summaries. The audio version is available as well, so you can listen and learn during walks or on the bus. And If you're already contemplating graduate school, you can cram for the GRE or GMAT as well.
For Apple users, the value of iTunes U is hard to measure. Partnered with the Open University, iTunes U is vast learning resource offering free educational content that users can download from the iTunes Store straight to their computer or mobile devices. The content is from leading universities, including MIT, Yale, Oxford, and Cambridge. Download this amazing app and bolster your knowledge straight from the best college and university courses out there.
ZAGG Phone Repair can help with phone repairs of all kinds as well as provide preventative protection, with locations in Washington D.C., Maryland, Virginia, and Sarasota, Florida, as well as mobile technicians in select areas. ZAGG is committed to helping you prevent damage before it occurs during the entire school year.